Ranking Criteria Explained
In order to compile the optimal list of the best hepatitis A testing solutions, we've developed and applied a comprehensive set of ranking criteria for every company on the market. This enables us to focus on the key elements of every provider and reliably determine their overall service quality. 
As one may expect, we first investigate the diversity of the tests available, as well as their quality and accuracy. Staff competency, company reputation, lab certifications, and FDA approvals are also of great interest to us. This helps us determine the trustworthiness of the provider and the overall accuracy of its testing solutions. 
Client experience is the final prong of our testing circuit. This encompasses the overall simplicity of the testing procedures, the professionalism of the support staff, and the average turnaround times. Finally, we measure the pricing policy against the quality/value provided. 
Our Top Picks
Our list of recommended STD testing options comprises of providers that received the highest scores throughout our ranking process. Read the following mini-reviews to learn more about our top picks and their testing options.
STDcheck
Best STD Testing On The Market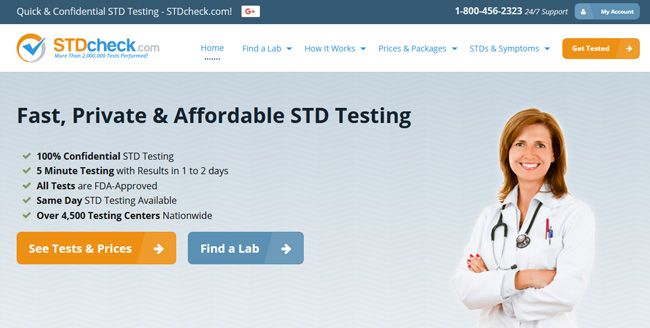 STDCheck is currently the top-ranked STD testing provider on our list featuring an A+ certification with the BBB. The company's headquarters are located in Houston, Texas. 
When it comes to hepatitis A, STDCheck offers a stand-alone antibody test approved by the FDA. The test will detect the antibodies created by your immune system to fight the HAV virus in your blood. The sensitivity rate and specificity of the test stand at 95%. The price tag is only 24.00$. 
If you suspect recent exposure to additional STDs, you can also order its 10 STD Panel (198.00$), which covers chlamydia, gonorrhea, hepatitis A/B/C, herpes 1 and 2, HIV 1 and 2, and syphilis. You can also opt to include HIV RNA Early Detection test, which raises the price of the panel to 349.00$. 
Personalabs
Your Personal Health Care Hub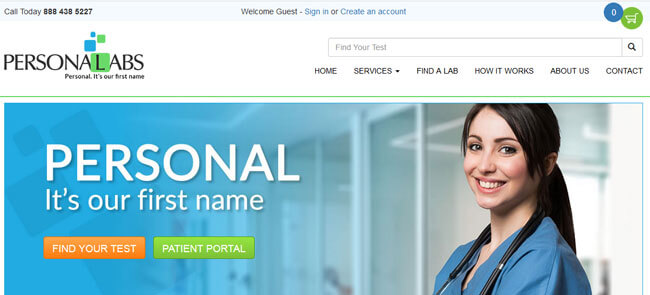 Personalabs was launched in 2006 and currently has more than 2,300 testing locations all across the US. The company is best known for its partnership with LabCorp and its incredible testing portfolio, which includes testing solutions and panels for pretty much any condition known to man.
When it comes to hepatitis A, the company offers the following solutions: Acute Hepatitis Profile Blood Test (110.00$) – Hepatitis A, B, and C; Hepatitis A Antibody Total Blood Test (58.00$); Total Bilirubin Blood Test (47.00$) – Detects potential liver damage; Ceruloplasmin Blood Test (52.00$); Comprehensive STD Blood Test (471.00$); Direct Bilirubin Blood Test (47.00$); Healthcare Worker Screening Profile Blood Test (307.00$); Prenatal Blood Panel Comprehensive Blood Test (361.00$); 11 Panel STD Blood Test (463.00$); Comprehensive Mail Sexual Health and Wellness Blood Test (863.00$); Liver Function Test (49.00$), and many others.
Any Lab Test Now
Any Lab Test You Can Possibly Imagine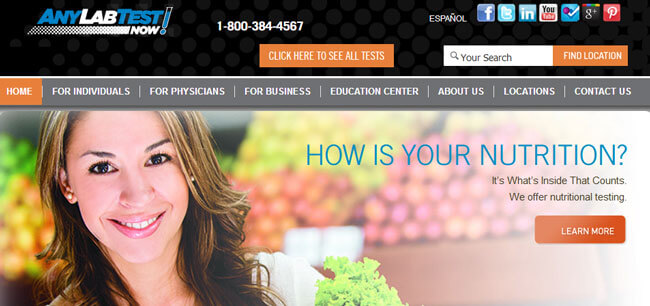 Any Lab Test Now is an STD testing provider based on the franchising model with more than 160 stores all over the US. Note that all of the mentioned stores are independently owned and operated. The company was founded back in 2007.
The company offers a stand-alone hepatitis A antibody test for 49.00$. The test doesn't require fasting or any other action prior to visiting the testing center and the lab results are usually available within 24-72 business hours. You can also order its Hepatitis Panel (129.00$), which screens for hepatitis A, B, and C.
Any Lab Test Now states that prices may vary depending on your current location, so in order to obtain relevant pricing information, we recommend contacting your local Any Lab Test Now store.
Conclusion
Hepatitis A affects the liver but is very different than all other liver diseases. If the virus causes liver inflammation, you may not exhibit a streamlined set of symptoms indicative of this disease. As a matter of fact, you may not exhibit any symptoms whatsoever. This especially goes for children and younger adults. 
You are contagious and can spread the disease around two weeks before any symptoms appear (if they appear) and during the first week when they do. Some of the most banal ways of contracting the virus include eating fruits or vegetables contaminated during handling or swallowing contaminated ice. 
The highest risk groups include individuals who have sex or live with an infected person or travel to areas with higher rates of hepatitis A, but also men who have sex with other men, individuals who inject illegal drugs, and kids in childcare, as well as their teachers. 
If discovered early and treated properly, hepatitis A usually won't leave any long-term complications. However, according to the CDC, between 10 and 15% of infected individuals will have long-lasting symptoms that recur over a period of 6-9 months. In rare situations, it can also cause liver failure.
There are currently no known direct treatments that can cure the disease, so the only thing your doctor can do is check your liver function to make sure your body is healing properly. Bottom line, the best defense against hepatitis A is vaccination. Alternatively, you can also receive a dose of immunoglobulin within the first two weeks of the infection. Good personal hygiene is also essential and helps prevent hepatitis A. Make sure to always wash your hands with water and soap after using the bathroom, before/after handling food, and after changing diapers.