EverlyWell Review
Advertiser Disclosure
This website features affiliate links. For purchases made via these links, we earn commissions that allow us to keep producing helpful content. To find out more
click here
.
Close
EverlyWell is a privately-held company dedicated to preventive medicine, health, wellness, and digital health. It provides a wide variety of at-home testing solutions, from cardiovascular to STD panels.  
The company was founded in 2015, with corporate headquarters in Austin, Texas. The founder and CEO Julia Taylor Cheek is a Harvard Business School graduate. This EverlyWell review will provide detailed info about the company, its testing portfolio, and established business practices.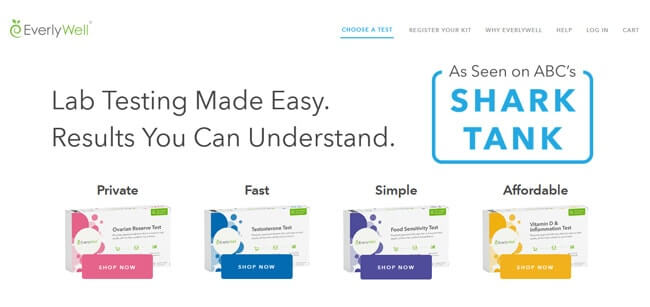 How EverlyWell Works
EverlyWell adopted the at-home business model, as we already mentioned, which means its testing procedure includes the following steps: 
Placing an order – You can purchase EverlyWell at-home STD tests on the official website. Once you proceed to checkout, you'll be prompted to provide your first/last name, email, shipping address, city, state, and ZIP code. You'll also get to choose your preferred payment method. Your package will leave the fulfillment warehouse within 2 work days after you place your order and you can expect it to arrive at your address within 3-5 work days or 5-7 work days during the holiday season. You won't have to sign anything upon delivery unless you're using a business address.  
Registering your kit – Your testing kit will feature a unique ID code. You'll have to enter this code on your personal EverlyWell account in order to proceed with the testing protocol. You can find the page in the top right corner of the official website. You can find the ID code on the registration slip in your kit.  
Collecting your sample – Once the EverlyWell testing kit arrives at your address, you can use it to collect and store your biological specimen, which is required for STD testing. The kit contains comprehensive instructions, collection tools, a secure sample container, and a pre-paid shipping package. The package sent to you is completely anonymous without any company markings or content indications. After you secure your sample, you can mail the package back to EverlyWell for lab processing. 
Inspecting the results – Your final report will be generated within 5 work days after the lab receives your sample. You will receive an email notification when the report becomes available on the site and you (and only you) can access it through your personal dashboard.  
Why Choose EverlyWell
Here are some of the most prominent reasons why you should opt for this company for STD testing:
At-home STD testing

 

Convenient and simple testing procedure

 

Expertly curated tests

 

Accurate and reliable results reviewed by a physician

 

Detailed explanations and actionable insights

 

CLIA-certified lab

 

Good privacy policy

 

Budget-friendly prices

 

HAS and FSA accepted

 
STD Tests
EverlyWell offers two STD testing panels: 
STD Test – Male (199.00$)
The panel screens for chlamydia, gonorrhea, hepatitis C, syphilis, HSV-2, HIV, and trichomoniasis. Men are required to provide two samples, urine and blood spot.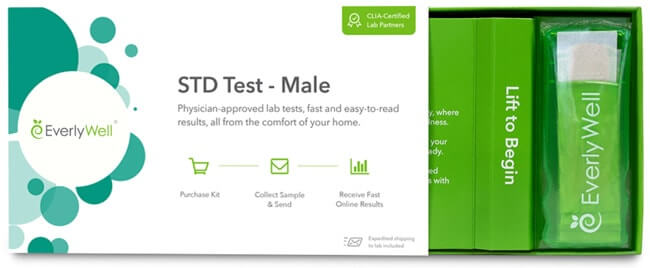 STD Test – Female (199.00$)
The only difference between these two 7-marker STD panels is the type of the required samples. Females will have to provide a vaginal swab and blood spot.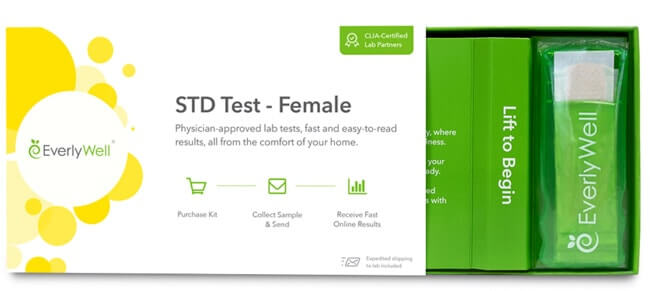 Chlamydia & Gonorrhea Test (69.00$)
This is a simple urine test designed to detect the potential presence of a gonorrhea and/or chlamydia infection.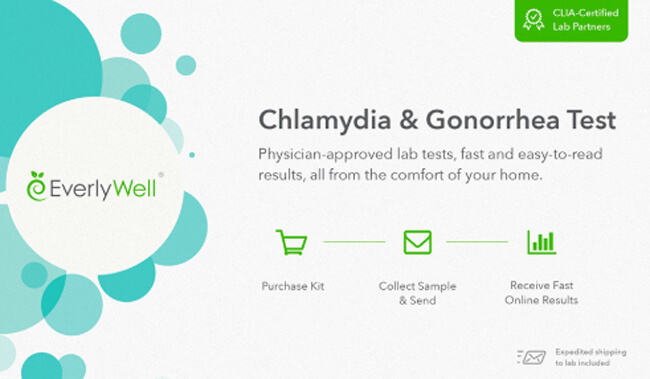 Hepatitis C Test (69.00$)
This test is developed to detect the presence of the hep C virus in your blood.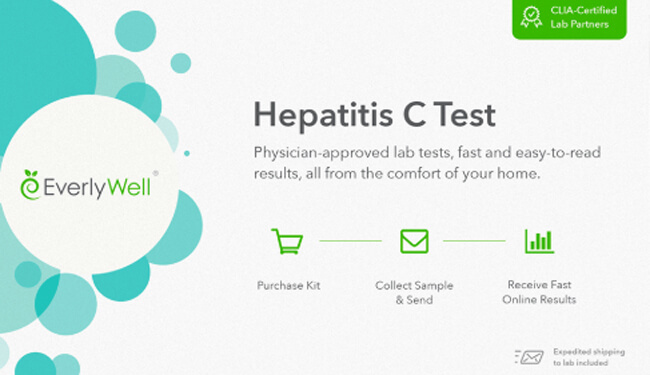 HIV Test (69.00$)
The website doesn't state the nature of this test, but due to its low price, we presume it is an antibody screening solution.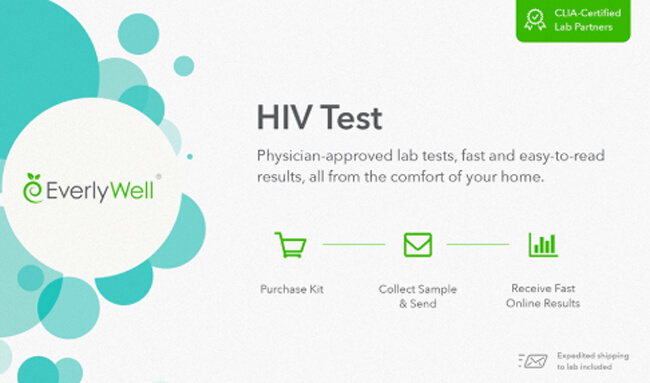 Syphilis Test (69.00$)
This is a simple blood test that detects syphilis.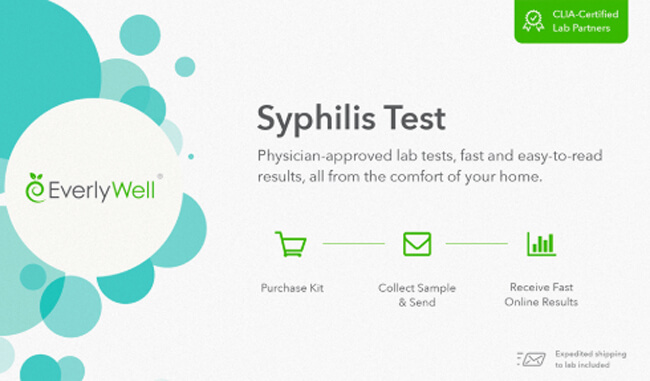 Trichomoniasis Test (69.00$)
This test uses a urine sample to detect the potential presence of trichomoniasis, which is the most common curable STI in the US.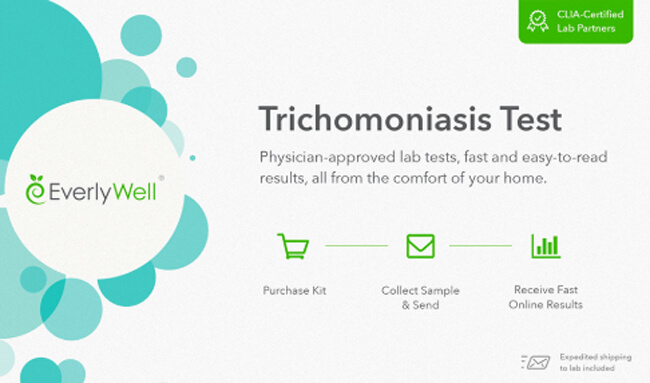 Physician Consultations
EverlyWell provides each client with phone or video consultations, which are completely free if you test positive for HSV-1, trichomoniasis, chlamydia or gonorrhea. One of the expert physicians from its large network of medical professionals can call you the same day you receive your positive results. If you miss the call, the physician will call you again in two consecutive work days.  
The company physicians can also offer prescriptions in 34 US states with more to follow soon. Note that video is mandatory for telehealth consults in Vermont, Ohio, and Georgia.  
Other Tests
Apart from STD panels and individual screening options, EverlyWell offers other tests too, such as Testosterone Test, Breast Milk DHA Test, Ovarian Reserve Test, and others. It also features general wellness and energy + weight tests, as well as DNA (genomics) tests. Genomic processing was introduced after EverlyWell partnered with Helix, which is a company well-known for its successful partnership with National Geographic and participation in its genetic ancestry testing. 
Delivery Areas
EverlyWell is currently available in 46 US states. State medical regulations prevent it from offering tests to residents of New Jersey, New York, Rhode Island, and Maryland. 
Privacy & Security
EverlyWell pays great attention to user privacy and protects your personal information with numerous security measures and bank-grade encryption. 
The company's security safeguards include the following:
Catalyze, a HIPAA compliant platform, is used for data hosting

All data is protected via AES-256 encryption, which is the same cipher currently used by the military

You'll communicate directly with Stripe, a PCI compliant service, for credit card info processing and storing

The official website is only accessible via HTTPS, which ensures secure connections and interactions with the site
On the other hand, EverlyWell keeps user records permanently, but you can always request that it deletes your records.
Payment Options
The company accepts Visa, MasterCard, Discover, and American Express, as well as HSA and FSA payments. If you're paying with HAS or FSA, you can request an itemized receipt that will help with the reimbursement.  
EverlyWell sells at-home testing solutions, which don't require visits to any labs or hospitals. As such, they are extremely unlikely to be covered by your insurance plan, but the company makes up for it with lower testing prices.  
Customer Support
You can contact EverlyWell via its official email, submit a support request or call by phone. The company provides support Mon-Fri 9:00 AM – 5:00 PM CST. Apart from customer support contact, the official website also features an extensive and very informative FAQ section.  
EverlyWell Pros & Cons
If you are still not certain if EverlyWell is just right for you, knowing its advantages and disadvantages can help you make an informed decision.
Pros
Very affordable STD panels 
CLIA certification 
Competent & professional staff 
Accurate results reviewed by a physician 
Call and video consultations 
Bottom Line
EverlyWell is clearly a very budget-friendly STD testing option that doesn't make any sacrifices when it comes to service quality, accuracy, and reliability. It offers numerous testing options outside of the STD sphere, with a multitude of additional features and benefits.  
We hope our EverlyWell review relayed all the necessary information for you to make the best decision for your sexual health and peace of mind.