LetsGetChecked Review
Advertiser Disclosure
This website features affiliate links. For purchases made via these links, we earn commissions that allow us to keep producing helpful content. To find out more
click here
.
Close
LetsGetChecked is a convenient and reliable at-home health testing provider offering top-quality screening solutions for all common STIs/STDs, cancer, and fertility. It also features general health tests. The company was founded in 2014 with corporate offices in the US, Ireland, and Canada.  
LetsGetChecked should be viewed as a technology platform designed to link potential customers to laboratories all over the world. Its users can access regulated lab testing and self-test solutions from the comfort of their homes instead of visiting brick&mortar draw centers and wasting time waiting in lines. 
If checking your (sexual) health from the privacy of your home sounds appealing to you, read our comprehensive LetsGetChecked review and learn all there is about the company and its services.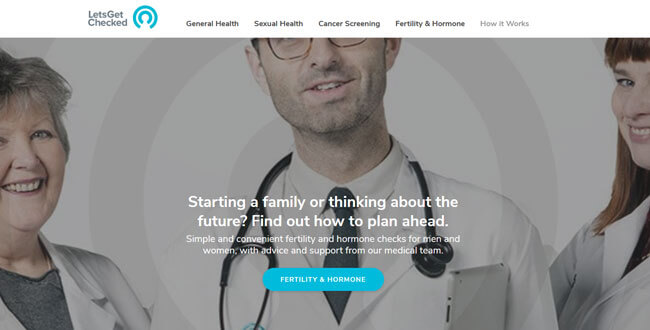 How LetsGetChecked Works
As we already mentioned, LetsGetChecked is an at-home (or direct-to-customer) testing company. This means that its testing process involves the following steps: 
Placing an order – It all starts when you place your order on the official website. LetsGetChecked uses standard and express delivery. With express shipping, your personal testing kit should arrive within 1-2 days in the UK and 2-3 days in Canada and the US. The shipments are delivered via UPS or DHL and require a signature upon delivery. With the standard delivery option, your shipment will arrive through the national postal service. The test kit itself is delivered in a plain envelope without any mention of LetsGetChecked or anything STD-related.

 

Sample collection – Once your personal testing kit arrives, you'll be able to collect the relevant testing samples following the simple instructions provided. These include either blood, saliva or urine, depending on the test(s) you've ordered. It is also very important to activate your personal testing kit on the official website or your results won't be uploaded to your personal account.

 

Sending the samples back – The aforementioned testing kit comes with a prepaid envelope, so you won't have to worry about the return shipping costs. Simply secure your samples within the provided biohazard bag, fill out the sticker on the inner lid of the box (date of collection/birth and gender), put the box in the envelope, and mail it back to the lab. LetsGetChecked uses the same CLIA, INAB, CPA, and CAP-accredited labs used by doctors and hospitals, which guarantees high accuracy and precision. DO NOT remove the invoices attached to your return package or it might get delayed on its way to the lab.

 

Receiving your results – Once the laboratory receives your sample, your final report should be generated within 2-5 work days. The results will be available on your personal online account. Many of the test kits also include a nurse call, during which you'll be able to discuss your results even before they get released to your account. If you test positive for any STDs/STIs, the company's nursing team will explain the results to you and offer any type of advice they can. You'll also be provided with a PDF copy of your report, which you can print and share with your doctor (this is entirely your choice).

 


You do not need a doctor's referral or prescription to order any of the available tests. All you have to do is place your order on the official LetsGetChecked website and the testing process will be initiated. Here are all the steps you'll go through during the ordering process: 
Simply choose your test and specify the quantity you require. Make sure you select your country and click "Add to Basket."
This action will lead you to the order summary screen. You can inspect your order there and if everything looks alright, just click "Proceed to Checkout."
At this point, you can sign in if you're a pre-existing customer or create a new account if you're not.

 

You will then be prompted to enter your delivery address. Once you've typed in the relevant data, click "Add Delivery Address."
Choose your preferred delivery method between standard and express delivery.

 

This will bring you to the summary page for your order, so please make sure all the details are correct. Here, you can also use any discount or promo code you might have.
Lastly, you are brought to the payment page. Once your payment goes through, your personal testing kit will be dispatched the next business day at the latest.

 
Why Choose LetsGetChecked
LetsGetChecked connects people in need of health testing with the best laboratories in the world. Here are some of the prominent features that make it worthy of your time: 
HIPAA compliant company

 

Simple testing procedure

 

Partnership with numerous CLIA, INAB, CPA, and CAP-accredited labs used by doctors, clinics, and hospitals

 

1,000+ pharmacies and stores worldwide

 

Affordable prices

 

Multitude of different testing solutions

 

Quick turnaround times

 

Free nurse consultations with certain tests

 

Competent user support (also available through live chat)

 

Discreet testing

 
STD Tests
When it comes to at-home STI testing, LetsGetChecked offers the following solutions: 
Simple 2 (49£/99$) – This option screens for chlamydia and gonorrhea. The incubation period for these STIs is around 3 weeks after potential exposure. The results will be available on your personal online account in 5 days.

 

Basic 3 (99£/119$) – This bundle tests for three of the most common STDs: chlamydia, gonorrhea, and trichomonas. The usual incubation period is around 3 weeks and the results are available online in 5 days.

 

Standard 6 (119£/179$) – The test screens for chlamydia, gonorrhea, trichomonas, HIV 1, 2, P24 antigen, syphilis, and hepatitis B. You should do this test at least 30 days after potential exposure and the results will be available online in 5 days.

 *Not available in US.

Complete 11 (239£/379$) – This is the broadest home STI test offered by LetsGetChecked. It covers 11 of the most common viral and bacterial infections, including chlamydia, gonorrhea, trichomonas, gardnerella, mycoplasma, ureaplasma, herpes simplex 1 and 2, HIV, syphilis, and hepatitis B. You should wait a minimum of 30 days from the day of exposure before testing and the average turnaround time is 5 days.

 

Hepatitis B & C (79£/79$) – This is a standalone blood test that screens for hep B and C. You should wait at least 30 days after exposure to get tested and you will receive your results online in 5 days.

 

Herpes Simplex 1 & 2 (49£/119$) – This test also uses a blood sample to check your HSV-1 and HSV-2 status. You should allow 4-12 weeks to pass from the time of potential exposure before taking the test. The results are available in 5 days.

 
The key to ensuring the optimal accuracy of your STD test(s) is to wait until the potential infection becomes detectable (hence the listed incubation periods). The sample processing is performed in the same labs used by doctors, hospitals, and clinics, as already stressed in the previous sections of our LetsGetChecked review.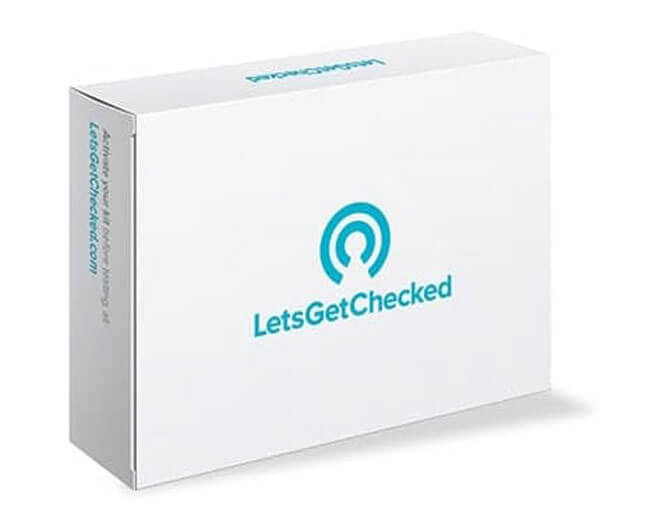 Other Tests
Apart from STI/STD testing, LetsGetChecked offers a number of other testing solutions dedicated to: 
General health – Basic Vitamin Test, CRP Check, Cortisol Check, Diabetic Check, Iron Check, Kidney Check, Heart Check, Thyroid Check, Thyroid Plus, Celiac, Lyme Disease, Omega 3, Vitamin B12, Vitamin D, and Folate Check.
Cancer screening – Bowel FIT, Cervical HPV, Prostate PSA, and Breast and Ovarian BRCA Check (coming soon).

 

Fertility & hormone testing – Ovarian Reserve, Female Hormone, Male Hormone, Progesterone – Ovulation, Testosterone Check, Male Hormone Plus, and Male Hormone Advanced.

 
Privacy & Security
The testing process with LetsGetChecked is completely confidential. The kit itself is 100% anonymous and doesn't feature your name when it's sent to the lab for processing. Your sample will be identified via unique codes found in your online account. 
LetsGetChecked will collect your personal information, including your name, billing address, contact information, delivery address, and all the other information you share with the company through its official website. If you contact the company by email, it may choose to keep a record of that correspondence as well. 
The company will collect information about your computer, such as your IP address, browser type, and operating system. This data is collected only for statistics about browsing patterns and actions and cannot positively identify you as an individual. 
LetsGetChecked will never share your personal data with anybody without your explicit consent. 
Payment Options
LetsGetChecked currently accepts VISA, MasterCard, Discover, American Express, Diners Club, JCB, and PayPal. 
Once you receive your chosen product, you have 14 days to cancel the service, no questions asked. In order to do so, you must inform the company of your decision by an unequivocal statement, including email, fax or letter. You will then be prompted to return the product you received at your own cost. You have 14 days to do so after the company receives your decision to cancel.  
If you cancel your purchase within 14 days of receiving the product, LetsGetChecked will reimburse you using the same payment method unless you agreed otherwise. The company will also cover the return shipping costs for the product. 
Customer Support
If you have any doubts or questions about the service, you can always contact LetsGetChecked user support. Its team of highly knowledgeable and professional individuals will be available to you through email, phone, and the Intercom live chat feature implemented on the official website. The support staff usually responds in just a few minutes. 
LetsGetChecked Pros & Cons
If you are still not certain if LetsGetChecked is just right for you, knowing its advantages and disadvantages can help you make an informed decision.
Pros
Simple and discreet testing 
Accurate and reliable screening solutions 
Partnership with numerous CLIA, INAB, CPA, and CAP-accredited labs 
1,000+ pharmacies and stores worldwide 
Budget-friendly 
Quick turnaround times 
Confidential results 
Bottom Line
LetsGetChecked is an excellent company launched to connect people in need of testing with some of the best labs in the world. It works with the same labs used by hospitals, clinics, and doctors, which guarantees the reliability of the final report. Additionally, the company is extremely dedicated to safeguarding your privacy and security, especially when it comes to STD testing. 
The user support is also quite impressive – you can get answers to your questions in under a minute via the live chat on the site. LetsGetChecked pays great attention to its customers and offers assistance and support every step of the way. Apart from providing top-notch service, this is one of the most important things a company can do for its users, so you will definitely not go wrong if you choose LetsGetChecked as your STD testing provider.