PlushCare Review
Advertiser Disclosure
This website features affiliate links. For purchases made via these links, we earn commissions that allow us to keep producing helpful content. To find out more
click here
.
Close
PlushCare is a privately-held online healthcare clinic dedicated to urgent care and internal medicine with online visits and telemedicine. The company is relatively young (founded in 2014), but it has already reached a highly reputable status thanks to its high-quality service and budget-friendly pricing. It's currently located in San Francisco, CA.  
Learn all about the company and its services in our professional and comprehensive PlushCare review.  


How PlushCare Works
When it comes to STD testing, PlushCare implements the following steps: 
Online order – Simply visit the official website and purchase the test you need. If you're unsure about the specific testing solution, you can always contact the professional Care Team for help and any further clarifications. 
STD test center – Once you decide on a specific test, all you have to do is visit the PlushCare test center closest to your location. You don't have to make any appointments and the sample collection procedure usually only takes between 15 and 30 minutes.
Results – Your final report will be generated within 3 business days or less and sent to your email address. If you test positive, the Care Team will connect you with one of the company's physicians who can provide the necessary treatment plan too.
Why Choose PlushCare
Here's our list of the most eye-catching PlushCare features: 
BBB accreditation

 

Partnership with Quest Diagnostics 

 

Numerous testing solutions

 

Multitude of testing locations

 

Quick and simple testing procedure

 

Fast turnaround times

 

Budget-friendly prices

 

Accurate results

 

Numerous pharmacy partners

 

Competent physicians with decades of experience

 

Professional Care Team

 

Possibility of treatment plans

 
STD Tests
Before ordering any tests, you should call the company for consultations, especially if you're unsure about the nature of your potential exposure to STDs. Having said that, here's the company's current portfolio: 
Chlamydia and gonorrhea (90.00$) 
Herpes 1 & 2 (80.00$) 
HIV antibody (50.00$) 
Hepatitis B & C (45.00$) 
Syphilis (45.00$) 
You can also order all the tests for only 199.00$, getting tested for all the most common STDs in the US and saving 110$ in the process.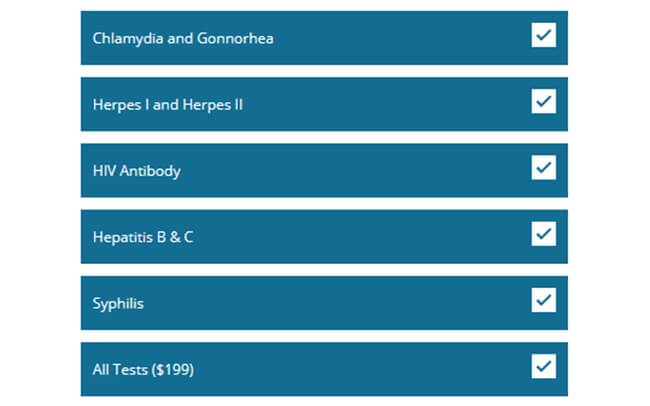 During your order, you'll also have to provide your email address, password, first/last name, date of birth, phone number, gender, and credit card information (the charge on your statement will only say "PlushCare").  
Apart from ordering a particular test, you can also schedule an appointment with one of the available doctors. The flat fee for a video visit is 99$ per visit. Veterans and active military have a 50$ discount per visit. Note that PlushCare doctors can also prescribe PReP. You can access your video consultations on your iOS or Android device.
Test Locations
PlushCare collaborates with Quest Diagnostics, one of the industry giants, to bring its users more than 2,000 testing locations across 31 states. Placing an order begins by entering your ZIP code into the provided lab locator and choosing the most convenient location.  

Privacy & Security
PlushCare is HIPAA compliant and keeps its electronic medical records in a private health records system. The team is also highly trained to protect patient information. Phone calls, emails, and video visits also meet HIPAA requirements. Your credit card info is kept secure and never shared with anyone outside PlushCare. 
Your personal and medical information is also protected and the company can use or disclose it only in situations defined in its privacy policy. This includes treatment, payment, health care operations, and cases dictated by California laws or the Secretary of the Department of Health and Human Services.  
PlushCare cannot sell, share or use your information for marketing purposes without your explicit consent, as mandated by the relevant California laws.  
Payment Options
PlushCare only accepts credit cards at this point. During the ordering process, you can also choose whether you want to use your insurance or not. If you go for insurance, there will be an additional 60$ physician lab order fee and other potential charges that you'll be responsible for if your insurance provider doesn't cover them.  
Customer Support
You can contact the company's customer support by phone or send an email. The business hours are Mon-Fri 7 AM – 10 PM PST; Sat & Sun 7 AM – 6 PM PST. We had excellent experiences with the support team since they're very pleasant and patient, as well as professional and knowledgeable.  
PlushCare Pros & Cons
If you are still not certain if PlushCare is just right for you, knowing its advantages and disadvantages can help you make an informed decision.
Pros
BBB accreditation 
Experienced team 
Simple testing procedure 
Low prices 
Good security  
Excellent customer support 
Bottom Line
PlushCare is an excellent provider of STD (and many other) testing solutions and comprehensive medical care thanks to modern telemedical possibilities. The level of service is almost incredible for such a young company, as it currently stands on equal ground with much older companies.  
We hope our PlushCare review helped you make the best decision for your health while allowing you to save some money along the way.