Private iDNA Review
Advertiser Disclosure
This website features affiliate links. For purchases made via these links, we earn commissions that allow us to keep producing helpful content. To find out more
click here
.
Close
Private iDNA is an at-home STD testing provider founded in 2016 with corporate headquarters in Dallas, TX. The company is best known for its budget-friendly test bundles, which allow clients to screen for the most common STDs in the US without breaking their monthly budget.
If you're interested in learning more about the company and familiarizing yourself with its service and adopted procedures, keep reading our in-depth Private iDNA review.


How Private iDNA Works
As a direct-to-customer testing provider, Private iDNA testing entails the following steps: 
Online order – You can inspect the company's portfolio on the official website and place your order online once you decide on a specific test or one of the provided bundles.  
Sample collection – Your personal testing kit will be delivered to your home address in a discreet packaging. The kits are usually shipped the following day after your order is received. You can collect your biological sample in just 5 minutes and send it to the lab via prepaid shipping. Note that every kit comes with a 3-month expiration date.
Results – Once your results are available, you'll receive an email notification and will be able to inspect your report on a secure HIPAA-compliant portal. You can delete your results any time if you so choose. Your final report is usually generated within 2-7 business days. 
Why Choose Private iDNA
Here's a full list of prominent reasons why you should consider Private iDNA for STD testing:
Numerous testing solutions

 

Convenient testing bundles

 

Reasonable pricing

 

Fully accredited laboratories

 

FDA-approved kits

 

Simple testing procedure

 

At-home sample collection

 

Good privacy policy

 

Discreet kit packaging and confidential results

 

30-day money back guarantee

 

Free testing after positive results

 

Knowledgeable customer support

 
STD Tests
Chlamydia (68.00$); Gonorrhea (68.00$); Trichomoniasis (68.00$)
These tests will detect any potential infections caused by Chlamydia trachomatis, Neisseria gonorrhoeae, and Trichmonas vaginalis. The tests use male urine specimens and female vaginal swabs and implement strand displacement amplification technology. These infections are commonly tested together using the same methods since they can mimic each other's symptoms and are usually found simultaneously. They each have their separate treatment regimens, though.
HIV 1 & 2 (68.00$)
This test is a combo of antigen/antibody ELISA blood screens and it detects the HIV p24 antigen, alongside HIV 1 antibodies (group M and O) and HIV type 2. In other words, the test screens for both incubated forms of HIV and can detect the virus as early as possible.
Syphilis (68.00$)
Private iDNA utilizes ELISA assay to detect Treponema pallidum antibodies. This test will target the antibodies exclusively, which makes it unreliable for individuals already cured of syphilis. It'll simply show (presumably) false positives since it can't differentiate between past cured cases and active infections.
Herpes 2 (78.00$)
The company uses ELISA antibody test to detect potential presence of IgG antibodies produced by the patient's immune system in order to ward off HPV-2 infection.
Hepatitis C (68.00$)
The test is designed to detect anti-HCV antibodies in the patient's blood utilizing the ELISA testing system.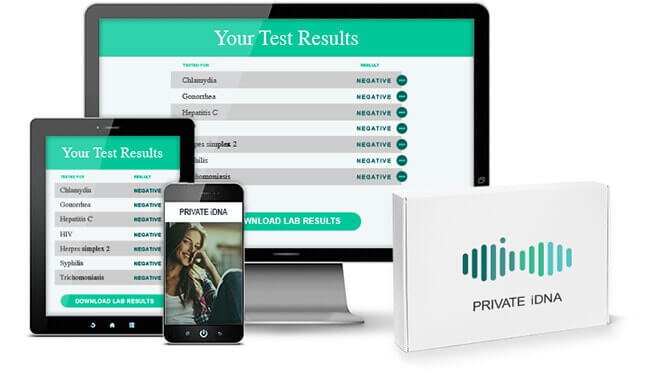 HPV (88.00$)
Nucleic acid hybridization and polymerase chain reaction (NAAT testing methods) are used to detect 14 high-risk types of HPV in male urine samples and female vaginal swabs.
Mycoplasma & Ureaplasma (98.00$)
PCR in-vitro diagnostic testing is used to detect bacteria Mycoplasma genitalium, Mycoplasma hominis, Ureaplasma parvum, and Ureaplasma urelyticum in female vaginal swabs and male urine samples.
Testing bundles:
Simple (68.00$) – Chlamydia & gonorrhea
Common (98.00$) – Chlamydia, gonorrhea, and trichomoniasis
Complete (198.00$) – Chlamydia, gonorrhea, trich, HIV 1/2, syphilis, hep C, and herpes 2
Comprehensive (298.00$) – Chlamydia, gonorrhea, trich, HIV 1/2, syphilis, hep C, herpes 2, mycoplasma & ureaplasma, and HPV


Delivery Areas
Private iDNA currently only delivers in the US. The company doesn't point out any limitations on the official websites, but we're sure it can't sell its tests in the state of New York due to legal barriers.  
Privacy & Security
Private iDNA collects the information you provide when you create your personal account and uses cookies to improve its services. You can always opt to block the cookies, so this is in no way a security risk. The company will always hold your personal information (including the screening results) in strict confidence unless legally required to share them with third parties. 
Private iDNA implements SSL encryption to make sure communication with the official website stays secure and protected at all times. Note that the service is not accessible to individuals under 18 years of age, which is a downside.
Payment Options
Private iDNA accepts all major credit cards and offers a 30-day money back guarantee if you're not completely satisfied with the services received. You will receive a full refund, minus 30$ for shipping and handling fees. Note that you cannot request a refund if you already received your test results.  
Customer Support
In case you have any additional questions about the service or simply want to know more about the company and its procedures, you can contact its support staff by phone or email. There's no live chat option at this point. 
Private iDNA Pros & Cons
If you are still not certain if Private iDNA is just right for you, knowing its advantages and disadvantages can help you make an informed decision.
Pros
Convenient testing bundles 
Reasonable pricing 
FDA-approved tests 
Fully-certified labs 
Quick test results 
Good privacy policy 
Free retesting 
30-day money back guarantee 
Cons
The official site lacks essential information 
No testing for minors 
No live chat 
Bottom Line
Private iDNA is a very young company that can definitely iron out some wrinkles in its service. Still, it is a very respectable STD testing provider that'll give you reliable results in a matter of days. We hope our Private iDNA review put some things into perspective and provided sufficient info to help you make the best decision regarding your sexual health and well-being.