Rapid STD Testing Review
Advertiser Disclosure
This website features affiliate links. For purchases made via these links, we earn commissions that allow us to keep producing helpful content. To find out more
click here
.
Close
Rapid STD Testing is a BBB-certified division of Rapid Screening Center dedicated to providing quick, confidential, and budget-friendly STD testing. Everything is done in an online setting, respecting the highest postulates of quality medical care.  
If you suspect potential exposure to the most common STDs in the US, keep on reading our Rapid STD Testing review to learn more about the company, its business model, and adopted practices.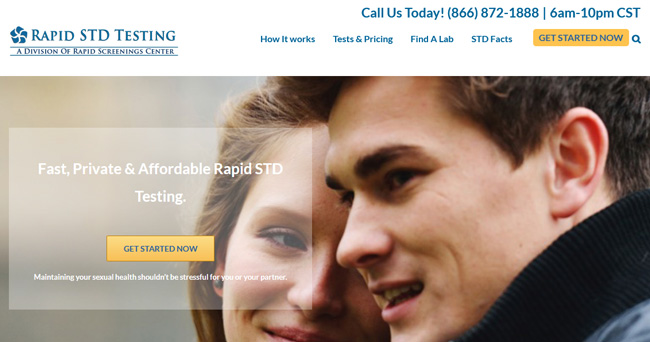 How Rapid STD Testing Works
Rapid STD Testing follows the usual online testing model, which includes the following steps:
Placing an order – You can purchase one of the available tests on the official website or by phone. Once you decide on a specific test, you'll be prompted to provide your first/last name, gender, date of birth, and payment information. You can also enter your ZIP code to find the most convenient testing location for your area. You can select the type of notification you'd like to receive once your results are available (email, SMS or do nothing until you call the company). If you have any questions, nurses are available to answer them Mon-Sun 6 AM – 10 PM CT.


Visiting the lab – Rapid STD Testing collaborates with Quest Diagnostics to provide its users with 4,000 testing labs nationwide. You won't have to make any appointments or fill out paperwork and nobody in the waiting room will know the exact reason for your visit since Quest Diagnostics staff performs routine blood testing for numerous conditions. The entire process takes less than 5 minutes.
Getting your results – Your final report is usually generated within 1-3 business days. When appropriate, the company doctor may refer you to a local specialist or send a prescription to your pharmacy. The report delivery type depends on your choice during order placement.
Note that you can always use complementary phone consultations in order to educate yourself on all relevant topics and make the best decision based on your current medical needs. If you require any follow-up care, the company team will connect you to one of its own physicians or one of your own choosing.  
Why Choose Rapid STD Testing
Here are just some of the reasons why you should opt for Rapid STD Testing:
STDCheck affiliate

 

4,000 testing centers nationwide

 

Proven service quality

 

Quick turnaround times

 

Reliable and accurate results

 

Solid privacy policy

 

Excellent customer support with a live chat

 

Free consultations with experienced physicians

 

Follow-up care available

 

Budget-friendly prices and secure payment processing

 
STD Tests
The odd thing about Rapid STD Testing is the fact that every test you click on redirects you to CTDCheck.com. We only later realized that the company actually has an affiliate program with the industry giant.  
So, Rapid STD Testing has all the same options and prices as STDCheck, including:
10 Test Panel (198.00$), including testing for HIV Type 1 and 2, Herpes 1 and 2, Hepatitis A/B/C, Chlamydia, Gonorrhea, and Syphilis.
10 Test Panel With HIV Early Detection (349.00$), including all the options of the previous panel, plus an early detection test for HIV.
Individual Tests, including Hepatitis A/B/C – 24.00$; Herpes 1 and 2 – 65.00$; HIV 4

th

 Gen 1 & 2 Antibody and Syphilis – 79.00$; Chlamydia and Gonorrhea – 89.00$ (combined – 129.00$); HIV RNA Early Detection – 169.00$.
Test Locations
Rapid STD Testing features 4,000 testing locations spread all across the US. You can provide your ZIP code during order placement to identify the most convenient lab nearest to your area.  
Privacy & Security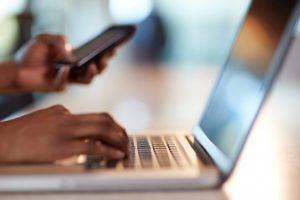 The company is very straightforward when it comes to user privacy and data security. The results of your lab tests will never appear on your medical record without your explicit consent. Furthermore, the company will never share, rent or sell your personal information. Rapid STD Testing only stores the last four digits of your credit card and protects all financial transactions with SSL encryption.  
Emails and credit card statements will be addressed to "APG Services" in order to completely protect your privacy and avoid uncomfortable situations. The company will never mail you any unwanted information or spam you with its latest offers and status updates. 
Payment Options
Rapid STD Testing accepts all major credit cards and PayPal. It also supports most insurance plans, including Aetna, CareFirst, Premera, Anthem, Highmark, The Regence Group, Blue Cross Blue Shield, Humana, and Wellmark. In total, the company accepts insurance payments from more than 400 providers. The reimbursement level depends on your insurance company, plan, and the test you order.  
You are eligible for a partial or full refund 14 days before your visit to the test center. Note that all sales are final after 30 days.   


Customer Support
Rapid STD Testing features a very responsive customer support team able to answer all the potential questions about its service. Apart from email and phone, the support staff is also available through live chat and they usually answer within minutes.  
In Lab Pros & Cons
If you are still not certain if In Lab is just right for you, knowing its advantages and disadvantages can help you make an informed decision.
Pros
STDCheck testing portfolio 
4,000 testing centers all over the US 
Simple testing procedures 
Reliable and quick results 
Live chat 
Free consultations 
Bottom Line
Rapid STD Testing is an affiliate of STDCheck, by far the best company on the market of online STD testing services. The question is, however, why anybody would use them instead of going directly to STDCheck. We weren't able to find a satisfying answer to this one, though.  
The company has some excellent features, which is definitely a plus in our eyes. So, you can view it as another STDCheck, which is definitely not an insignificant title.