STD Test Express Review
Advertiser Disclosure
This website features affiliate links. For purchases made via these links, we earn commissions that allow us to keep producing helpful content. To find out more
click here
.
Close
Important update: STD Test Express has shut down its operations. The company no longer accepts new patients. The reasons for the unexpected shutdown have not been disclosed as of yet. Revisit this page for fresh news on possible changes in the company's status.
Launched back in 2007 in Chicago, Illinois, STD Test Express is a BBB-certified provider of quick, private, and affordable STD testing. The company regards itself as the nation's largest online clinic designed to provide the highest level of medical care in an online setting. It has helped over 120,000 individuals perform various tests for the most common STDs in the US. Its doctors have prescribed treatments or established connections to further care for more than 16,000 people.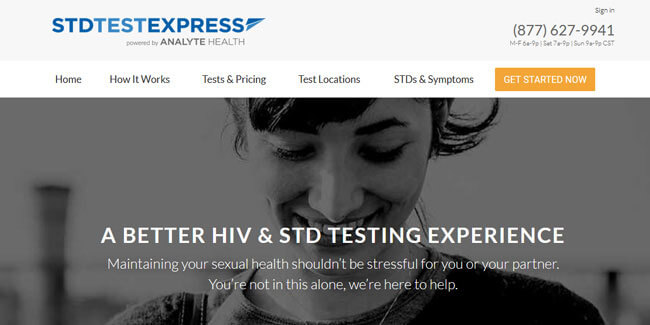 Did you know?
Vasectomy can't prevent HIV transmission.
STD Test Express cooperates with Analyte Physicians Group, S.C. ("APG"), a national network of medical professionals, doctors, and certified Care Advisors with special training in online medical care. Its doctors are certified sexual health experts and can authorize your tests, answer all of your questions, and even write prescriptions to refer you to local specialists when permitted by state law. 
If you want to know more about the company and its testing panels, we recommend reading our in-depth STD Test Express review, which will answer any potential question you might have and familiarize you with its testing procedures and the most prominent advantages. 
How STD Test Express Works
STD Test Express service is executed in 4 easy steps: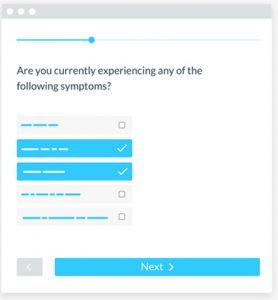 Medical intake – Before you place your order, you will have an opportunity to fill out a short online medical intake created by experienced doctors in order to allow the company to recommend the optimal STD testing iteration for you.
Placing an order – After your medical intake is complete, you can opt to either go with the provided recommendation or choose one of the testing panels or individual STD tests on your own. 
Getting tested – You can enter your address or ZIP code on the official website and locate your nearest testing facility. STD Test Express operates thousands of locations, so choosing one in your neighborhood or close proximity shouldn't be a problem. You can visit the selected lab at your convenience without having to make an appointment. Once there, you'll be prompted to show your lab order. You can either print it out or show it on your mobile phone if you don't have access to printers. You can sign in at the reception desk and also confirm your information. For some insurance providers, it is very important to refrain from showing your insurance card to avoid double billing. Lastly, depending on the tests ordered, you should give a blood and/or urine sample.
Did you know?
80% of people living with STDs exhibit no symptoms whatsoever.
The overall testing time is around 15-30 minutes, so make sure you arrive at the lab at least half an hour before closing time. You can eat as much as you want and drink plenty of water before testing since none of the tests require fasting. Hydration can even facilitate your blood draw. The single request is that you do not urinate for at least 1 hour before your urine test. If the technician can't find you in the lab's computer system, simply give them your Patient ID number (the one starting with "P" on your lab order). Note that STD Test Express doesn't require you to fill out any additional paperwork.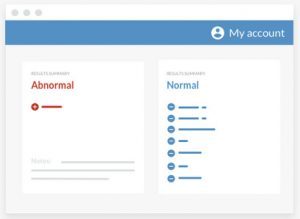 Receiving your results – Your final report is usually generated within 3 business days or less. Some tests, including trichomoniasis and HIV Early Detection, can take a bit longer to process (up to 5 days). Once your results are ready, you'll receive a direct email from APG services explaining the next steps. Note that you can also view your results on your mobile phone. One of the clinical team members or doctors will explain the results to you over the phone and answer any question you might have at that point. They can also recommend treatment or refer you to one of the local specialists. Simply request and confirm your appointment for a consultation and you'll receive a phone call within the next 24 hours. 
Why Choose STD Test Express
Here are some of the most prominent advantages of STD Test Express: 
Wide variety of different testing solutions

 

Excellent team of experienced doctors and Care Advisors

 

Simple and discreet testing procedures

 

CLIA-certified testing facilities

 

Budget-friendly prices

 

Numerous payment methods including insurance

 

Vigilant customer service

 

Accurate and reliable results

 

Quick turnaround times

 

Doctor consultations 

 

Excellent privacy policy

 
STD Tests
When it comes to testing panels, STD Test Express offers the following options: 
General Screening (from 141.10$)
General screening is recommended for low-risk patients who just want to stay up-to-date with their sexual health. 
The Most Common Doctor-Recommended Panel (from 198.00$)
This option screens for the following conditions: Gonorrhea, Chlamydia, Herpes 1 & 2, Syphilis, Hepatitis B & C, and HIV. 
The Most Common Doctor-Recommended Panel + HIV Early Detection (from 268.94$)
If you're having concerns about potential HIV exposure, the company also recommends its Early Detection test, which can detect HIV as early as 2 weeks after exposure.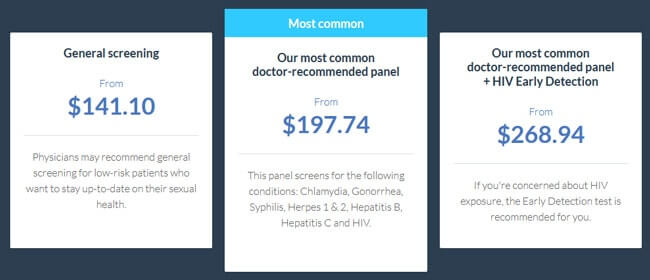 Chlamydia & Gonorrhea (from 45.00$)
These two tests are only available together since they both use the nucleic acid amplification test (NAAT). Furthermore, it's a very good idea to get tested for both since the risk for chlamydia also increases the risk for gonorrhea. The test is recommended by the CDC and should be performed 3 weeks after the potential exposure and then again in 3 months. If your urine sample tests positive for chlamydia or gonorrhea, one of the STD Test Express doctors can prescribe treatment with antibiotics since the infection is bacterial in nature.
Hepatitis A (from 24.90$)
STD Test Express performs the hepatitis A IgM antibody test, which can reliably screen for traces of infection in your blood. Hepatitis A can be spread through sexual activities, but it is most commonly caused by food and drinks contaminated by feces. If your results come back positive, doctors may recommend a follow-up test for liver function, as well as additional STD testing. Treatment is supportive and doesn't include any activity or dietary restrictions. Patients may require occasional hospitalization due to dehydration from vomiting and nausea or indicators of acute liver failure. If you're diagnosed with hep A, you should avoid any damaging factors to your liver, such as alcohol or medication. Almost in all cases, the infection should go away on its own and the patient will heal naturally. Note that the usual doctor's recommendations include plenty of rest and fluids. 
Hepatitis B (from 19.50$)
Testing for acute hepatitis B requires a blood sample and the test is called Hepatitis B Surface Antigen test. If you suspect exposure to hepatitis B in the last 72 hours, you should visit an urgent care clinic or emergency room immediately in order to receive preventive treatment. Otherwise, STD Test Express recommends testing 3 weeks after the potential exposure and then again in 3 months. Negative results will spell "normal" and positive "abnormal." If caught early, hepatitis B can be cured with supportive treatment (rest and fluids). In some cases, though, it can't be cured completely, but the virus can be stopped from getting worse with adequate treatment. If your hepatitis B infection goes away naturally, you will most likely develop immunity and never contract this condition again. There's also a vaccine that prevents the virus.
Did you know?
The strain of gonorrhea resistant to antibiotics already appeared in Canada.
Hepatitis C (from 22.00$)
Hepatitis C testing is performed with your blood sample and doesn't require any prior preparations. Note that the term "abnormal" is used solely to indicate a possible infection. If the results show an active hepatitis C infection, the test will spell "positive." There are new treatments available that are able to cure hepatitis C, but you can also get reinfected, so it is very important to test regularly if you're at risk of contracting this dangerous virus. If you have concerns about hepatitis C, doctors also recommend testing for other common STDs. Note that the absence of symptoms DOES NOT rule out the infection.
Herpes 2 (from 18.87 $)
If you test positive for herpes type 2, the company can connect you to a local medical service provider if you don't have one. It is advised to wait for at least 3 weeks after potential exposure in order to avoid false negatives.
HIV 1 & 2 Antibody (from 25.25 $)
If you suspect HIV exposure in the last 72 hours, you should visit an urgent care clinic or the emergency room immediately in order to receive preventive treatment. The test uses your blood sample and can detect infection 3 weeks after the exposure. It is also recommended to retest after 3 months to confirm your results.
HIV Early Detection (95.80$)
HIV Early Detection is a test designed to detect the genetic material of the virus (RNA). It can do so as early as 2 weeks after potential exposure and the results are usually generated within 5 business days.
Syphilis (from 18.00$)
The test for syphilis requires a blood sample and is designed to detect the antibodies produced shortly after the affection occurs. Note that a low level of antibodies is most likely to stay in your blood for months or even years after successful treatment. The results also use "abnormal" to indicate a positive test. Syphilis is a bacterial infection and, therefore, cured with antibiotics. If left untreated, though, it can cause very serious medical problems. Note that you can contract syphilis more than once.
Trichomoniasis (from 49.30$)
This is a urine test, quite similar to those for gonorrhea and chlamydia. The official name of the test is transcription mediated amplification test (TMA) and it's an FDA-approved and CDC-recommended test for this STD. It's also called the "trichomonas" test. The results can take up to 5 work days and they also use the words "normal" and "abnormal" to indicate negative and positive outcomes, respectively. 
Test Locations
STD Test Express offers its services in thousands of certified laboratories in 52 states and 96 cities. The company is guaranteed to find a location near your area and all you have to do is enter your ZIP code, a city or your address. The dedicated page on the official website will inform you of the nearest testing location, its distance from your area, and whether it's currently open for business. You'll also receive some other useful information like rates per 100k people for different infections in your area.
Privacy & Security
Privacy is one of the core values behind STD Test Express. The company is HIPAA compliant and sends discreet communications to your inbox, so "STD testing" will never appear on your credit card statement (it will spell "APG Services"). Once you go to the testing lab, you don't even have to tell the front desk why you're there. You can say the reason for your visit is "diagnostic testing" or "lab testing."
The company will never sell your data to third parties and will exclusively use it to improve its service, process payments, and provide the optimal testing experience to you as a customer. Also, the company reserves the right to disclose collected information to the authorities if it becomes subject to a court order or subpoena. 
Payment Options
STD Test Express accepts all major credit/debit cards (Visa, MasterCard, Discover, and American Express), prepaid/gift cards, and HSA/FSA cards. You can also pay for testing with your insurance, but note that your test results will end up in your permanent medical records if you opt for this payment method. STD Test Express services are compatible with the following providers: Aetna, Anthem, Blue Cross Blue Shield, Cigna, CareFirst, Coventry, Highmark, Humana, Premera, The Regence Group, United Healthcare, and Wellmark. If your chosen location doesn't allow insurance orders, insurance will not show up as a payment option during your ordering process. Note that the company currently doesn't accept Medicaid or Medicare plan types. 
You can cancel your order before you visit the lab and within 21 days of the original purchase date. You will receive a refund, minus a 35$ cancellation fee. You can cancel your order by calling a care advisor. 
Customer Support
As far as customer support is concerned, STD Test Express is at your disposal M-F 6a-9p/Sat 7a-9p/Sun 9a-9p CST. The staff will answer all of your questions and, as we already mentioned before in this STD Test Express review, Care Advisors can walk you through the entire testing process before you place your order. If you test positive, one of the doctors or members of the medical team will call you after you make an appointment to explain your condition, answer potential questions, and even start your treatment if permitted by state law.
STD Test Express Pros & Cons
If you are still not certain if STD Test Express is just right for you, knowing its advantages and disadvantages can help you make an informed decision.
Pros
Numerous testing options
Skilled and professional team
CLIA-certification
Simple and comprehensive testing procedures
Affordable prices
Multitude of payment methods + insurance
Accurate results
Fast turnaround times
Doctor consultations
Excellent privacy policy
Bottom Line
STD Test Express is a very professional company with an impressive team of highly skilled experts and a wide variety of different testing options. Test results are highly accurate and delivered to you in a matter of days. Doctor consultations and potential treatments are available to anyone with positive test results. On top of all that, the company also takes great care of user privacy, so no one will ever know you took an STD test. 
We hope this STD Test Express review helped you learn more about STDs in general and the services offered by the company itself. Play it safe, test often, and stay on top of potential infections at all times.