STD Testing 24/7 Review
Advertiser Disclosure
This website features affiliate links. For purchases made via these links, we earn commissions that allow us to keep producing helpful content. To find out more
click here
.
Close
STD Testing 24/7 is a reputable provider of STD testing solutions launched by PHAS Group LLC in 2014. The main advantage of the company's business model is, as the name implies, the fact that its services are available 24/7.  
If you're interested in learning more about the company, we recommend reading our in-depth review and using it as a reference guide for your future STD examinations.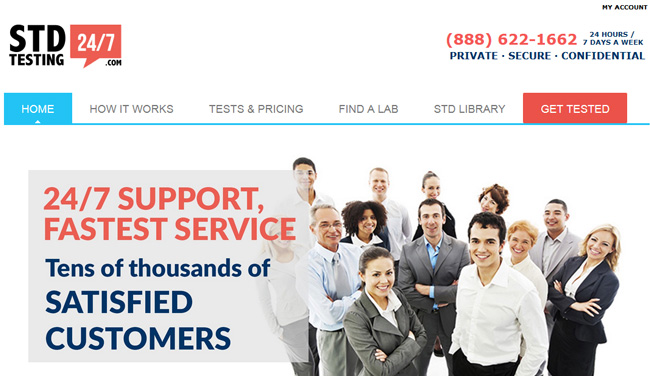 How STD Testing 24/7 Works
STD Testing 24/7 is an online provider of testing services, which entails the following procedure: 
Placing an order – You can start the process by choosing the right testing option for you and ordering it online or by phone. You'll be prompted to enter your ZIP code in order to identify the most convenient lab location. You'll be asked to provide your first/last name, email address, phone, gender, and birthday. After you place an order, you'll receive an email with your login, pass, and Lab Requisition Form. Your credit card statement will only show "PHAS GROUP." 
Visiting the lab – Since STD Testing 24/7 doesn't incorporate at-home sample collection, you'll have to visit one of its partner labs spread across more than 4,000 locations nationwide. There's no need for appointments and the whole procedure takes only a couple of minutes. For your own privacy, you won't have to show your personal ID or any other document. You'll only be required to provide your date of birth and the name you entered when you placed your order. The staff will only collect a small blood or urine sample without any swabbing or physical exams.
Getting your results – The test results are usually available within 3 business days or less, depending on the test in question. All reports are secure and confidential and you can view your results on your personal online account. You can also use your account to retrieve secure messages, review your order history, and schedule a phone call with one of the available doctors.


Why Choose STD Testing 24/7
The main advantages of STD Testing 24/7 include:
Numerous testing solutions with convenient screening panels

 

FDA-approved tests

 

CLIA-certified labs

 

Simple testing procedures

 

More than 4,000 testing locations

 

Quick and reliable results

 

Free consultations

 

Extensive network of doctors

 

Budget-friendly pricing

 

Excellent privacy policy

 

Numerous security measures 

 

Excellent customer support with a 24/7 live chat

 
STD Tests
8 Test Panel (199.95$)
This panel screens for chlamydia, gonorrhea, hepatitis B & C, Herpes 1 & 2, Syphilis, and HIV (antibody testing).  
8 Test Panel + HIV Early Detection (299.95$)
In addition to all the tests included in the previous panel, this option also comes with RNA HIV Early Detection Test, which can provide you with conclusive results 9-11 days after potential HIV exposure. The test is designed to detect the DNA signature of the virus instead of antibodies created by the immune system to fight off the disease.  
You can also order the following single tests:
Syphilis – 69.95$

 

Hepatitis B – 69.95$

 

Hepatitis C – 69.95$

 

HIV Antibody – 89.95$

 

Herpes 1 & 2 – 129.95$

 

Chlamydia – 69.95$

 

Gonorrhea – 69.95$

 

Chlamydia & gonorrhea – 129.95$

 

HIV Early Detection – 179.95$

 
All of the tests are FDA-approved and come with free consultations with company doctors.  


Test Locations
As we already stated, STD Testing 24/7 has over 4,000 testing centers spread all over the US. All you have to do is enter your ZIP code on the official website and locate the one nearest to your area.  
Privacy & Security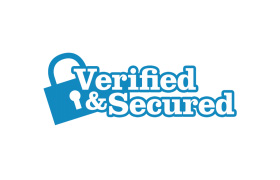 STD Testing 24/7 is committed to protecting your security and privacy by keeping your personal information strictly confidential. It follows all relevant state and federal medical privacy laws, including HIPAA.  
When you purchase a test, you are assigned a unique personal ID code, which means you can visit the lab and provide your biological specimen without giving your name or having to fill out any paperwork. You can also use this code to track the progress of your test and obtain your results.  
All communication with the official website is protected via 128-bit SSL encryption and HL-7 standard. STD Testing 24/7 doesn't accept insurance as a payment method, so your test results will not the reported to your insurance company and placed on your permanent medical record.  
The company will never share your test results with anybody unless required so by law in case of a positive outcome. This is done anonymously for statistical purposes. Your results are stripped of any data that can be used to positively identify you as an individual.  
Payment Options
STD Testing 24/7 accepts MasterCard, Visa, American Express, and PayPal. As we previously mentioned in our STD Testing 24/7 review, health insurance is not accepted in order to safeguard user privacy.  
You are eligible for a refund until the moment your visit one of the testing centers. The refund fee is 20% of the total price.  
Customer Support
STD Testing 24/7 offers excellent customer support, one of the best we've ever had the pleasure of communicating with. The support staff is very knowledgeable and ready to solve every problem you might have. User support can be accessed by phone or email but also 24/7 live chat, which is something you definitely don't see every day. 
STD Testing 24/7 Pros & Cons
If you are still not certain if STD Testing 24/7 is just right for you, knowing its advantages and disadvantages can help you make an informed decision.
Pros
Variety of testing options 
CLIA-certified labs 
FDA-approved testing solutions 
Competent and experienced staff 
Reliable results 
Quick turnaround times 
24/7 service 
Excellent privacy policy and security measures 
Live chat 
Bottom Line
STD Testing 24/7 is definitely a unique company on the market. It's an excellent mix of high-quality testing services, competent staff, and modern processing technologies. We can talk for days about all the positive things the company has to offer, but we'll end our praises with mentioning its rock-solid privacy policy and numerous security measures put in place to guarantee the complete safety of user information and result confidentiality.  
We hope our exhaustive STD Testing 24/7 review painted a complete picture of what the company has to offer and helped you make the right choice when it comes to your sexual health.