STDcheck Review
Advertiser Disclosure
This website features affiliate links. For purchases made via these links, we earn commissions that allow us to keep producing helpful content. To find out more
click here
.
Close
STDcheck is an A+ BBB-certified provider of STD testing solutions founded 7 years ago in Houston, Texas. The company allows its clients to choose among 13 different testing options and receive accurate results in just a couple of days.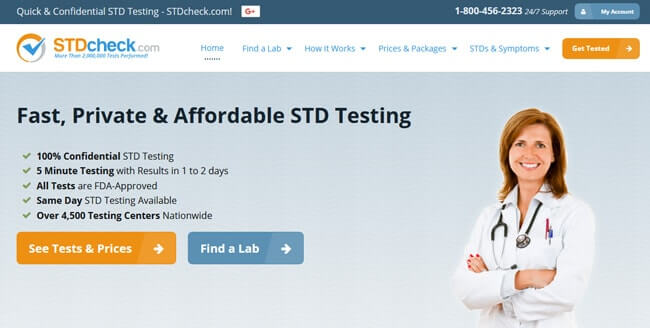 Did you know?
Individuals in the US with gonorrhea, herpes, and syphilis are more likely to get infected with HIV in the future.
STDcheck is also dedicated to educating individuals about HIV and various STDs. The company is proud of its current coverage and constantly strives to expand across the nation in order to make affordable STD testing available to everybody.
So, if you're interested in learning more about the company, its portfolio, business model, and noteworthy advantages, you can find all the relevant info below in our dedicated STDcheck review.
How STDcheck Works?
The company has managed to keep its testing process as simple and convenient as possible. Here are the required steps with all the relevant explanations and guidelines:
Ordering your STD test – All you have to do here is choose one of the provided testing options and enter your zip code or let the website use your current location. You will be given the locations of the nearest testing labs and provided with Lab Requisition and your personal test code. You can always view those in your online account. You'll also be prompted to provide your personal info (first and last name, sex, date of birth, and your preferred way of receiving the results) and your desired payment method.
Visiting the test center – You don't have to make an appointment for your STD testing, but note that the center itself cannot receive payments from you, so you'll have to wait until your order is through. All the centers are open during regular work hours and some even receive clients on Saturdays. There are no waiting areas, so you'll just come in, hand over your blood or urine sample (depending on the test), and walk out. The procedure usually takes around 5 minutes. While you don't have to make any special preparations before the testing procedure takes place, the only requirement is not to urinate at least an hour before visiting the lab if you ordered tests that require your urine sample, like Gonorrhea or Chlamydia.
Receiving your results – Your final report will be ready within 1-2 work days. You can choose to receive the results via email, SMS or you can instruct STDcheck to do nothing until you call them. You can contact the company Care Advisors by phone anytime and they'll do their best to provide you with adequate answers to all your questions. The line is available 24/7. If your results come back positive, you'll have the option of speaking with highly experienced STDcheck physicians who can even prescribe adequate treatment at their own discretion.
Why Choose STDcheck
Here are the most prominent benefits STDcheck has to offer to its customers:
Complete confidentiality – We'll talk more about this topic in its corresponding subheading, but it's important to know that your personal information is secure at all times, from the moment you order the test to the moment you receive the final report.
10-test panel – STDcheck is the only service with the option of examining your status for all common STDs with a single test.
FDA-approved testing solutions – STDcheck is the only provider of the FDA-approved HIV RNA Early Detection Test. The company strictly follows all state and federal government testing guidelines.
CLIA-certified labs – All testing facilities used by STDcheck meet or exceed the standards set by Clinical Laboratory Improvement Amendments. This fact guarantees the overall accuracy of your final results.
Convenient testing hours and locations – You'll have more than 4,500 test centers at your disposal, so you won't have to drive far in order to get tested.
Fast turnaround times – Final reports are usually generated within 1-2 business days.
Simple testing procedure – There are zero questions to answers and paperwork to fill out.
Numerous payment options.
Free doctor consultations for positive results.
Care advisors available.
STD Test Recommender – This is a convenient tool that'll propose a list of STDs you should test for after a short quiz.

 
Note that STDcheck also allows minors to take STD tests without the consent of their parents. Studies have shown that minors usually go without the necessary health care just to avoid the uncomfortable conversation with their parents. This is completely legal in all 50 states in the US. 18 states give the physician the right to inform the parents of the procedure but none require parental notification. Iowa does, however, but only in case of a positive test result.  
STD Tests
As we already mentioned in this STDcheck review, the company offers 13 different testing options, including:
10 Test Panel (198.00$)
This is by far the most "attractive" and requested option among customers since it allows you to check your status regarding all the most common viral and bacterial STDs in the US. The panel has been designed by highly experienced physicians to provide you with total peace of mind. The panel incorporates testing for HIV Type 1 and 2, Herpes 1 and 2, Hepatitis A/B/C, Chlamydia, Gonorrhea, and Syphilis.
10 Test Panel With HIV Early Detection (349.00$)
This option includes all the examinations of the previous one with an extra early detection test for HIV. The preliminary results can be generated as early as 6 days after the exposure and the test is conclusive if taken 9-11 days after the exposure. The standard HIV 1 & 2 4th Gen Antibody test that's already included in the panel detects HIV 2-3 weeks post exposure.


Individual Tests
If you have concerns about a single infection, you can also order individual tests. The prices go as follows: Hepatitis A/B/C – 24.00$; Herpes 1 and 2 – 65.00$; HIV 4th Gen 1 & 2 Antibody and Syphilis – 79.00$; Chlamydia and Gonorrhea – 89.00$ (combined – 129.00$); HIV RNA Early Detection – 169.00$. The provided prices are for individual tests, we just grouped the tests with the same price tags.
Did you know?Infants can contract herpes from infections that originated on the mother's breast.
It's important to clarify the difference between the standard HIV 4th Gen Antibody Test and HIV RNA Test. Namely, HIV RNA Test can detect the virus sooner (9-11 days post exposure) since it screens for its genetic material (RNA) in your blood. HIV 4th Gen Antibody Test has to "wait" until your body produces the antibodies and antigens it can detect. This usually happens around 2-3 weeks post exposure. The test detects HIV p24 antigens.  
Test Locations
STDcheck operates 4,500 test centers spread across the US, so you don't have to worry about locating the lab nearest to your area. In most cases, you won't even have to drive to get tested, which additionally speeds up the entire process. Just enter your ZIP code or allow the site to use your current location and you'll find the closest center in no time. The dedicated page on the official website will also show you the distance in miles and allow you to filter labs open on Saturdays.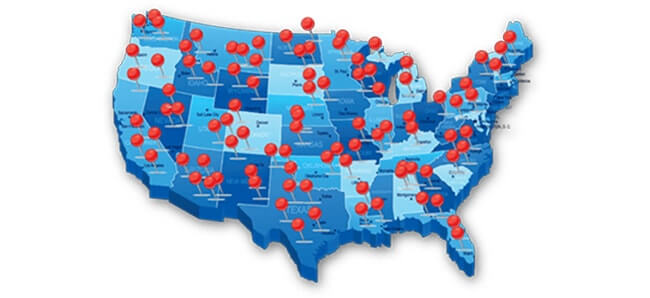 Privacy & Security
From the moment you contact STDcheck (phone or email), the company does everything in its power to keep your personal information as private and secure as possible. Every communication between you and the official website is protected with 128-bit SSL encryption and HL-7 interface, which is the current standard in the health industry.  
Did you know?You can be allergic to sex.
STDcheck strictly follows HIPPA, which protects your information from health care fraud, unsolicited access, and abuse. Once you've placed your order, you are given a unique ID code used to track your current test and retrieve the final results. This means you don't have to give your real name or fill out any paperwork during your visit to the test center.  
If you use your credit card to pay for the test(s), the charge will spell "Medology," so no one will ever know exactly what the payment was for. The company doesn't store any financial or personal information once the testing process is complete.  
Payment Options
STDcheck accepts credit cards, e-Check, prepaid debit/gift cards, cashiers checks or money orders, HAS or FSA, and PayPal. The company also allows its customers to take any of its tests now and pay later. For additional information, you can always contact its advisors and get all the necessary information first hand. You can also use STDcheck coupons or gift cards when available.  
In order to provide maximum security, STDcheck doesn't accept your health insurance. If it did, your testing would have to be reported to your insurance company and the results would enter your medical record.
You can cancel your order at any given moment before visiting the test center. Your refund will be issued within 24-48 hours, minus a 20% cancellation fee. Cancellations after 21 days will instead be given for future testing.
Customer Support
STDcheck provides excellent customer support to its users in the form of conferences with Care Advisors and consultations with company physicians. Both instances are available 24/7 and will answer all the questions you might have at any given moment and disperse every potential doubt or concern. You don't have to make appointments in order to contact the staff, you can give them a phone call anytime. The provided phone number is also the only way of contacting STDcheck before you place your order.
STDcheck Pros & Cons
If you are still not certain if STDcheck  is just right for you, knowing its advantages and disadvantages can help you make an informed decision.
Pros
100% discreet testing
Numerous FDA-approved testing options
CLIA-certification
Simple testing procedures
Quick turnaround times
Multitude of payment options
Excellent customer support
Bottom Line
This STDcheck review painted a picture of a very serious and professional company, which provides high-quality testing service and pays great attention to preserving the privacy of its customers. The provided tests take only 5 minutes to perform and yield 100% accurate results in just a couple of days. On top of that, no one will ever know you took an STD test, not your credit card or health insurance company, not even your parents. Yes, STDcheck also allows minors to take an STD test and receive results without the prior consent of their parents or guardians.  
The overall pricing is very budget-friendly considering the level of service you'll receive in return. The company also allows its clients to take the test now and pay for it later, which is a rare commodity on today's market. Additionally, you'll have all sorts of expert consultations available and the company physicians can even start your treatment if the results come back positive. All in all, we can only recommend STDcheck as true professionals and a glaring example of what an STD testing company should really look like.